Scroll down or click on links below for the most recent fishing reports from DNR and other sites. Additional reports are being developed by SC staff and contributors that will also be posted here.
Outdoor Report 3/20/20
Wisconsin State Parks and Trails will remain open to the public. In light of COVID-19, the Wisconsin Department of Natural Resources continues to receive the most up-to-date information and will adjust operations as conditions change. We will continue to monitor on-the-ground circumstances each day to determine if park closures become necessary.
Recent guidance from the Department of Health Services (DHS) recommends canceling or postponing gatherings of 10 people or more to help protect Wisconsinites, visitors and staff from the spread of COVID-19, particularly those who are most vulnerable to infection and severe disease.
We recognize that spending time outdoors benefits both physical and mental health which is why we would like to provide this virtual update.
With that, a few far northern counties still have snow up to a foot or more, but all snowmobile and most ski trails are now closed for the season.
Lake conditions are continually changing, and with warmer weather in the forecast, ice safety is critical. As an alternative, early trout fishing season is open, and current early spring weather conditions are favorable for pursuing trout.
There has been an increase in baby animal sightings, including fox, raccoon and squirrel kits. There has been an influx of songbirds with the warming weather, including red-winged blackbirds, ruby and golden-crowned kinglets, eastern bluebirds, eastern phoebes and our summer resident turkey vultures. Skunk cabbage is emerging out of the marsh and wetland areas.
For updates on event cancellations and building closures at DNR properties, visit the DNR website or follow @WIDNR on Facebook, @wi_dnr on Instagram, or @WDNR on Twitter.
This is a rapidly evolving situation. For specific information regarding the COVID-19 we encourage the public to frequently monitor the DHS website for updates, and to follow @DHSWI on Facebook and Twitter, or dhs.wi on Instagram. Additional information can be found on the CDC website.
For more on Wisconsin's outdoors, check out the full Outdoor Report below.
---
FISHING
Bayfield county
Chequamegon Bay still has good conditions for ice fishing travel and they are getting some brown trout and whitefish yet.
Brown County
Rain has affected the fishing on the Fox River with water clarity being poor. Anglers reported fewer fish being caught than previously. Jig and minnows and rattle baits seemed to be most popular in catching walleyes. Some night fishing was starting to take place as well with anglers trolling crankbaits and stick baits being successful. Ice was still present at Long Tail Point as of the weekend with reports of a few anglers fishing perch south of Lineville Road.
Door County
With the recent warm up and rain events the ice on Green Bay has started to break-up in many places and separate from shore. The Coast Guard started ice breaking operations on Monday the 9th and continued much of the week. Some ice anglers had to be rescued off of Red River landing when the ice sheet they were fishing on separated from shore.
At Little Sturgeon Bay, a few anglers were out at both Clafins and Big Rock Place, with reports of a few whitefish still being caught. Anglers trying for a few last minute perch at Carmody Park report catching lots of smaller fish with very few keepers. – A few anglers tried their luck out of Sand Bay resort with limited success. The ramp is starting to break-up and the ice conditions are poor.
Iowa County
Lake conditions are continually changing this time of year, and with warmer weather in the forecast, ice safety is critical. Please be aware that no ice is safe. As an alternative, early trout fishing season is open, and current early spring weather conditions are favorable for pursuing trout.
Marinette County
Rain and wind have caused the ice to move and pile on the west shore of Green Bay in several places. On Friday the wind turned to the west and created open water situations from Menominee River mouth south to Suamico. Overall numbers of anglers was near zero with the exception of the Fox River.
Only a few anglers were out on the Menominee River this week by the dam as wind and rain made fishing uncomfortable for most. As a result of the recent weather, some open water patches were being seen throughout the lower sections of the river. What ice that remains in the main channel is in poor shape. All launches were still iced in and not usable as of the weekend. The Peshtigo River was still iced over from the mouth upstream to the boat launch on County BB.
Oconto County
A few walleye anglers were out this week at Oconto Park II as late as Thursday. Most anglers were averaging one fish per outing with size being reported from the mid 20 inches and up. No activity was seen this week at the Oconto Harbor and Geano Beach, with ice shoves and open water being present by the end of the week. The majority of the Oconto River is open from the County S bridge in town upstream.
Waupaca County
Walleyes are starting to show up on the Wolf river. Most fish are smaller males and the best bite has been near Chico's landing in Winnebago County. There are still some ice flows moving down the river, so be careful if you decide to anchor your boat. Ice conditions on most lakes are deteriorating quickly. Some lakes have decent ice but always check for your safety.
---
HUNTING & TRAPPING
There are no reports this week.
---
WILDLIFE
Dane County
Lots of migrating waterfowl are using the southern Dane County area. Lower Mud Lake is hosting 1,000-2000 diving ducks. Sheet water ponds in agricultural fields are hosting geese, dabbling ducks and swans. March migrants include turkey vulture, bluebirds, woodcock, song sparrows and blackbirds. Turkeys are starting to display in larger flocks. Woodcock are displaying on nesting areas in the early evening.
Iron County
Bald eagles, trumpeters and other early bird migrants have appeared near the flowage and bird feeders over the past two weeks. Although Iron County still has, on average, 18 inches of snow throughout the county, tree wells are beginning to open, offering new green sources of food. Deer, turkeys and other wildlife are taking advantage of the open areas near roadsides. Drivers should be aware of roadside wildlife and eagles feeding on car-killed carcasses; slow down when approaching all wildlife.
Milwaukee County
We've seen an influx of songbirds with the warming weather, including red-winged blackbirds, ruby and golden-crowned kinglets, eastern bluebirds, eastern phoebes and our summer resident turkey vultures in Milwaukee County! You can even visit some of your local ephemeral ponds around the county in search of frogs and salamanders.
We have a variety of state parks and state wildlife areas within a 30-minute drive of Milwaukee. There has been an increase in the number of baby animal sightings, including fox, raccoon and squirrel kits. If you see a young wild animal you think is injured or lost, contact your local wildlife rehabilitation center. Most wild mothers watch their young from a distance, and what you think is an abandoned young animal may be perfectly fine.
Waupaca County
There have been many birds arriving in the Waupaca area recently. Bird sightings in the last week: Sandhill Crane, Red-Winged blackbird, Grackles, Turkey Vultures, Wood Ducks, Blue Birds, Red-Shouldered Hawks to name a few. Turkeys have been gobbling and strutting as well. The turkeys are still in large flocks and in their winter areas. A few birds are beginning to disperse from these areas.
---
SEASONAL CONDITIONS
Bayfield county
Still is winter up here basically. Average of 36 inches of snow in the main forest area. Snowmobile trails are hard packed but some snow is expected later this week.
Sauk County
Spring is emerging at Honey Creek State Natural Area. Skunk cabbages are growing out of the marsh and wetland areas. Large birds such as bald eagles and pileated woodpeckers have been spotted or heard. Ice has mostly melted off Honey Creek. The trail is muddy, so be sure to bring proper footwear.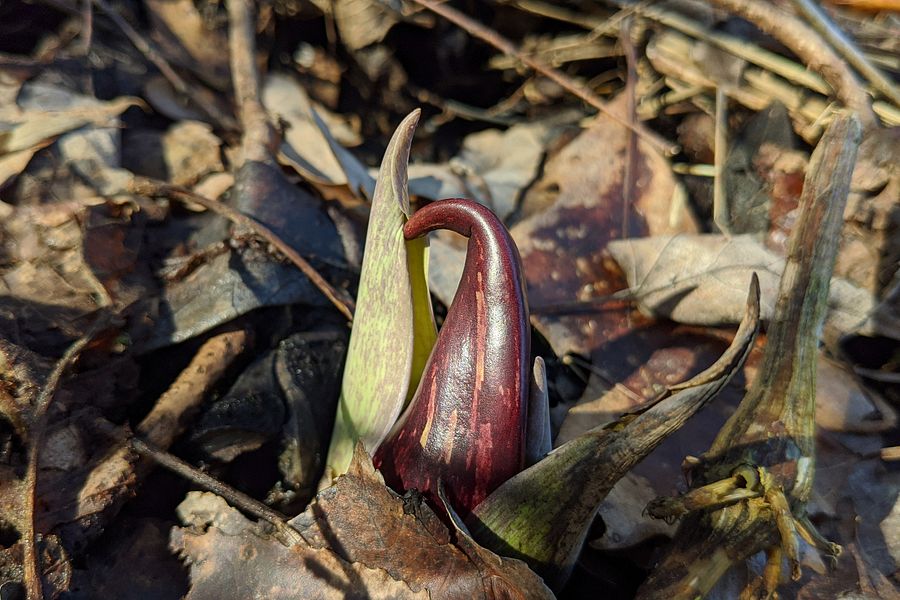 Sawyer County
Snowmobile and ski trails are in very poor condition at Flambeau River State Forest. Much of what is left is ice, which has counties in the surrounding area closing. All grooming has stopped for the season. The snowpack has gone down considerably in the last week again. Area lakes have had the snow melted off, which makes for easy travel if you still plan on doing some ice fishing. Ice depth is still good but varies from lake to lake. Shorelines have even started to pull away in some spots, so use caution.
Vilas County
In Northern Highland-American Legion State Forest, there is still plenty of snow out there, although it is very hard and icy in the morning and softening in the afternoon. Deer are feeding on the few exposed southern exposures. Chipmunks have appeared, and raccoons are coming into bird feeders at night. Ski trails are very icy as well as many area roads and trails as the snow melts and freezes and rains slicken surfaces. A robin can be heard here and there, but other southern migrants are scarce.
Washburn County
On Tuesday a wood frog was heard calling in northern Washburn County. It sounded slow and cold, but it was calling. Deer are along the roadside enjoying the open grass. I've seen rough-legged hawks moving north and some robins returned yesterday. There is still some snow on the ground.
---
PARKS & TRAILS
Chippewa County
Lake Wissota State Park trails are mostly snow-covered but not enough for most winter sports. Ski trails are now open for foot traffic. We do not plan to groom the trails for the remainder of the season. Ice fishing is coming to a close, but there are still some opportunities if caution is used.
Juneau County
Buckhorn State Park trails still have snow or ice in spots. Sandhill cranes have returned and can be seen throughout the park. The lake is in drawdown, but depending on weather, some visitors have launched small fishing boats at Launch C and have been shore fishing at Buckhorn Bridge.
Marinette County
The Spring Rapids trails are now open to hikers in Governor Earl Peshtigo River State Forest. The gates for the roads will stay shut until after breakup and mud season. The Peshtigo River is just starting to open under the HWY X bridge. All boat landings are still iced in.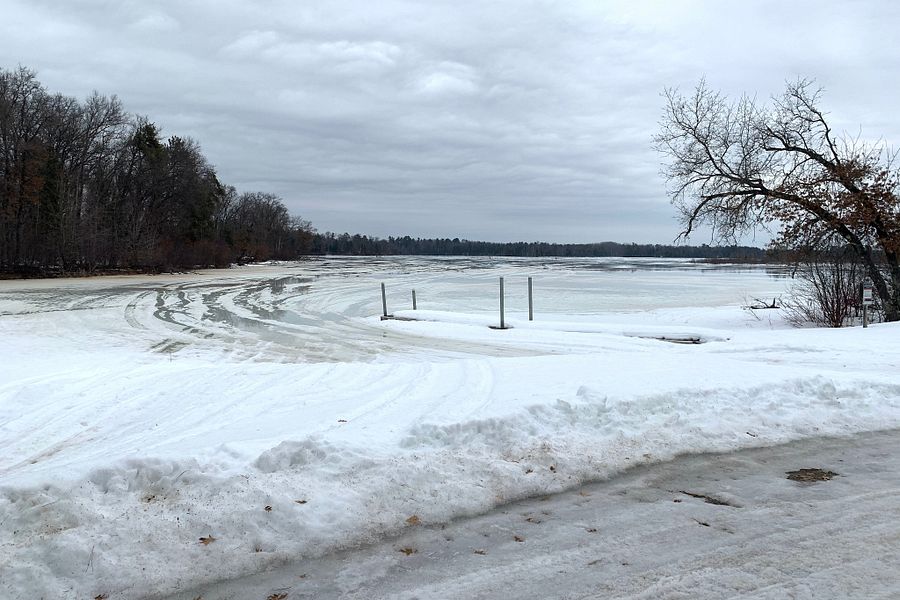 In Governor Thompson State Park, ski trail grooming has ended and all trails are now open to hikers. Hikers will find ice and hard pack snow on the previously groomed trails and up to 12 inches of snow on all other trails. Snowshoes are recommended for hiking. The lakes are still frozen with little snow cover.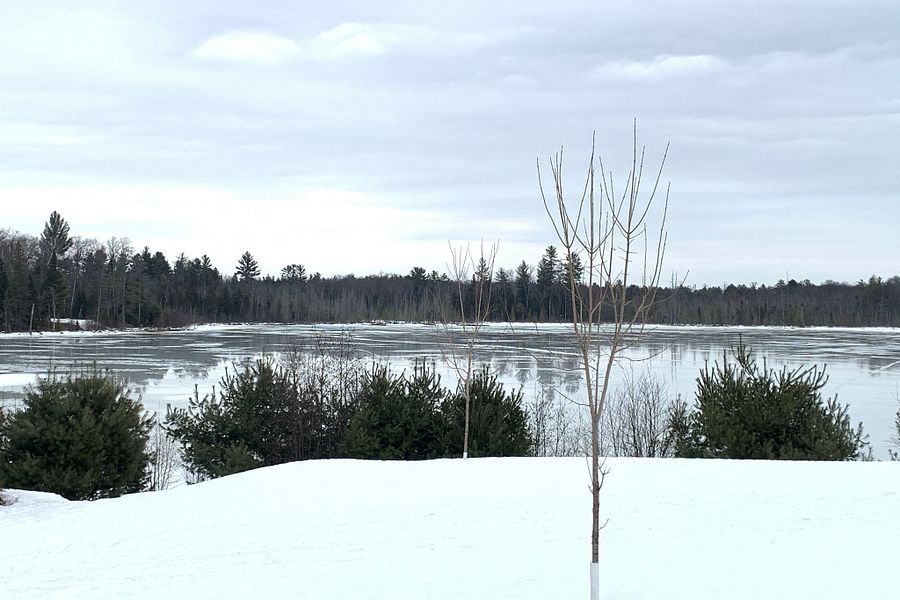 Sauk County
Spring is arriving at Natural Bridge State Park. Trails are mostly dry with some areas of mud along the nature trail. The snow has mostly melted, and the sounds of sandhill cranes migrating back to Wisconsin is heartwarming. The park will be a great place to hike with family as the ephemeral spring plants emerge. There are also some excellent views of the Driftless area, and the sandstone outcroppings are majestic.